We have recently introduced RSS Feed support for accounts and gallery on our platform. This means you can syndicate your widgets using RSS and access them using an RSS reader. There are a lost other applications for RSS as well. Here are some examples:
End-users can subscribe to your widget updates via RSS

Fans can get alerts every time a new widget is added

Marketing automation and alerts using IFTTT or Zapier

You can send an email or perform any other IFTTT or Zapier action when a new widget is added to your gallery or account
You can find the RSS Feed to your Music or Book Widgets in one of several places.
Gallery Page
If you are the administrator of a Gallery, you'll be able to get your RSS Feed directly from your Gallery page (example: Features ) by clicking on the actions icon (wrench)  and selecting RSS Feed.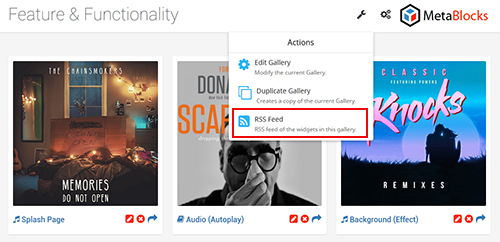 Management Console: Galleries Page
If you log into your 2lin.cc account and navigate to the Galleries page you will see that each gallery has an RSS icon associated with it. Click on the icon to get the RSS feed link to that galleries.

Management Console: Widget Page
In the upper right corner of the widget page, you'll find a link to an RSS feed for your account.

RSS Feed Formats
You can also format the RSS feed links yourself, here are some examples of what our RSS feed structure looks like:
Gallery RSS Feed:
http://www.2lin.cc/feeds/galleryrss-TAG
http://www.2lin.cc/feeds/galleryrss-features
Account RSS Feed:
http://www.2lin.cc/feeds/accountrss-23-9d308b52e1472e6b